News & Events
The Third Five Year Strategy for Occupational Therapy (2018-2022)
In 2018, JAOT announced "The Third Five Year Strategy for Occupational Therapy (2018-2022)". This strategy consists of 53 targeted actions. Among them, priority items to be addressed are, "promotion of utilization of occupational therapy in regional-based comprehensive care toward realization of symbiotic society" and "training of occupational therapists who contribute to development of symbiotic communities".


"The Third Five Year Strategy for Occupational Therapy (2018-2022)"
The 53rd Japanese Occupational Therapy Congress and EXPO
JAOT sincerely invites occupational therapists of all WFOT member organizations to The 53rd Japanese Occupational Therapy Congress and EXPO, which will be held from Friday, September 6 to Sunday, September 8, 2019 in Fukuoka. Though the main language is Japanese, the congress holds the international symposium with simultaneous translation between English and Japanese. JAOT also provides participants to give presentation in English in "English Session". Furthermore, during the congress "The 2nd Japan-Taiwan Occupational Therapy Joint Symposium" will be held on Saturday 7 September.
Fukuoka is a very nice destination for you in terms of food, sightseeing, and also study about Japan. We look forward to meeting you in Fukuoka.
JAOT's definition of "Occupational Therapy" was amended (May 2018)
Occupational Therapy is occupation-focused therapy, guidance and support provided in fields such as medical care, public health, welfare, education and employment, with the aim of promoting human health and well-being. "Occupation" refers to daily activities that are purposeful and meaningful to each person.


(Notes)
・Occupational therapy is grounded on the fundamental principle and academic evidence that "people's health and well-being can be promoted through occupation."
・"Clients" are individuals or groups of people who have or are expected to have difficulties in their daily activities as a result of physical, mental, developmental, or age-related disabilities or difficulty adjusting to their environment.
・"Occupations" include daily activities such as activities of daily living, housework, work, hobbies, play, interpersonal interaction, and rest; and are founded on physical and mental components for each activity.
・"Occupations" are activities that a person wants to, needs to, or is expected to do, and have purpose and meaning for each person.
・Occupation-focused practice involves using occupations as ends to restore, maintain, or prevent the decline of physical and mental function, and occupations as means to practice and achieve occupational engagement, and modifying environment to support its achievement.
The 52nd Japanese Occupational Therapy Congress and EXPO
The 52nd Japanese Occupational Therapy Congress and EXPO was held from Friday, September 7 to Sunday, September 9, 2018 at the Nagoya Congress Center in Tokyo. This year was a significant turning point for medical and nursing care policies because the year coincides with double revisions to the medical and nursing care fee systems, as well as double launches of the 7th Plans for Medical Care and the Long-term Care Service, in order to contribute to the establishment of community-based integrated care systems. The congress was held under the theme "Enlargement of Evidence-Based Occupational Therapy", and about 4,000 people participated throughout the congress. We had guest speakers from Island and Philippines as well.


The 51st Japanese Occupational Therapy Congress and EXPO
The 51st Japanese Occupational Therapy Congress and EXPO was held from Friday, September 22 to Sunday, September 24, 2017 at the Tokyo International Forum in Tokyo.
Fifty years have passed since the birth of occupational therapists in Japan. During this time, not only hospitals but the area of occupational therapists needed has expanded to areas such as long-term health care, disabled welfare, special needs education, and employment support. Thus, the congress was held under the theme "Challenge of Occupational Therapy : Theory and practice for responding to diverse needs".
The congress consisted of 322 oral presentations, 44 special sessions, 820 poster presentations, and 25 seminars and symposia. There were more than 5,000 participants in attendance.
The 50th Japanese Occupational Therapy Congress and EXPO
The 50th Japanese Occupational Therapy Congress and EXPO was held from Friday, September 9 to Sunday, September 11, 2016 in Sapporo, Hokkaido (Royton Sapporo, Hotel Sapporo Bungeikan, Sapporo Education and Culture Hall).
Under the theme "Our achievements over the last half century and prospects for the future: developing occupational therapy in Japan," the Congress aimed to address the direction occupational therapy should take in Japan going forward, drawing on its achievements over the last half century.
In addition to presentations and poster sessions, the program included lectures by academic leaders, keynote lectures, symposia, open lectures, and seminars.
The 49th Japanese Occupational Therapy Congress and EXPO
The 49th Japanese Occupational Therapy Congress and EXPO was held from Friday, June 19 to Sunday, June 21, 2015 at the Kobe Portopia Hotel and Kobe Convention Center. Although it was held during the rainy season, there were more than 6,000 participants in attendance.
About 400 presentations were made, and about 700 posters were presented.
Additionally held were lectures by academic leaders and prominent doctors and occupational therapists from abroad, open lectures on dementia, an international symposium with panelists invited from Asia, symposia on a variety of themes, morning seminars, and night seminars.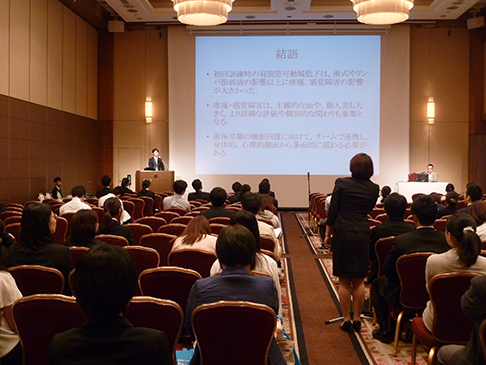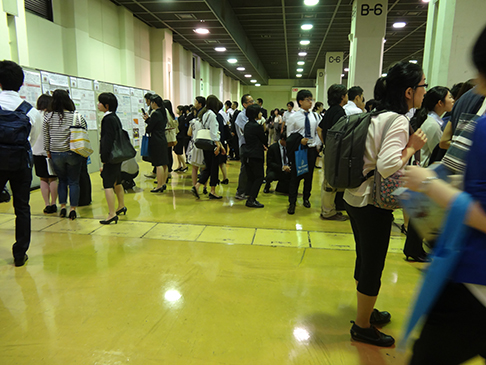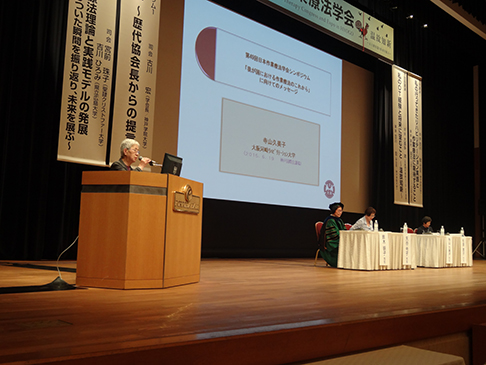 A new occupational therapy promotional poster has been launched
Last year, the Japanese Association of Occupational Therapists published a PR poster to promote occupational therapy. This year, two posters with the theme of "the Japanese bath 'Ofuro'" have been created. Bathing is an essential part of daily life for Japanese people. In Japan, the bathtub is separate from the area for washing the body and hair; it is used for soaking in after becoming clean. The Japanese bathtub is deep, and water usually comes up to the shoulders when sitting. For Japanese people, the "Ofuro" is not only a place to keep clean but a place where they can relax, release muscle tension, stimulate blood circulation, and refresh their minds. This year's poster copy includes the lines, "I was glad I hadn't given up once I was up to my shoulders in warm water," and "My life felt wonderful." Messages like these help people understand the background of Japanese culture, and they also explain how occupational therapists assist their subjects in enriching their daily lives. It is hoped that these posters will convey the meaning of occupational therapy and the way in which occupational therapists relate to users.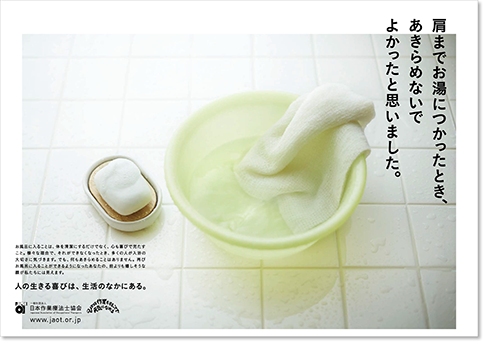 "When I soaked in hot water up to my shoulders, I felt glad that I had not given up."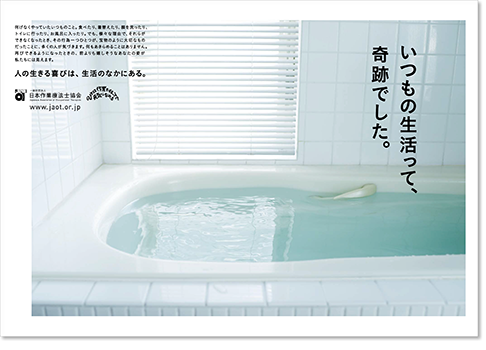 "My normal lifestyle was a miracle."
Success at H. C. R. 2015
The International Home Care & Rehabilitation Exhibition (H. C. R.) 2015 was held from October 7 to October 9, 2015 at Tokyo Big Sight, the largest convention center in Japan. We would like to sincerely thank you all for coming. The Association showed a film at our booth on "The Case of Assisted Chopsticks that Granted the User's Wish: Fulfilling the Wish of a Cervical Spinal Cord Injury (C6) Patient to Eat Ramen with Chopsticks," in which an occupational therapist drew on his expertise and made changes to ready-made equipment to enrich his patient's life. On the day of the film screening, the patient in the film stopped by and demonstrated the modified chopsticks. Chopsticks are an indispensable part of Japanese meals, but cervical spinal cord injury patients must often give up using them. However, the occupational therapist modified the patient's chopsticks in order to make the most of the patient's remaining ability (tenodesis action), making it possible for the patient to use them to eat noodles. In this way, the patient's satisfaction with life was improved. At the booth, we explained that occupational therapists support patients in improving their quality of life, and we demonstrated how to modify chopsticks. Visitors were able to try using both normal chopsticks and those modified by the occupational therapist. In addition, the Japanese Association of Occupational Therapists sent our members to the consultation booth set up by the exhibition organizer, where they used their expertise to provide advice and suggestions on choosing and operating home care and rehabilitation equipment.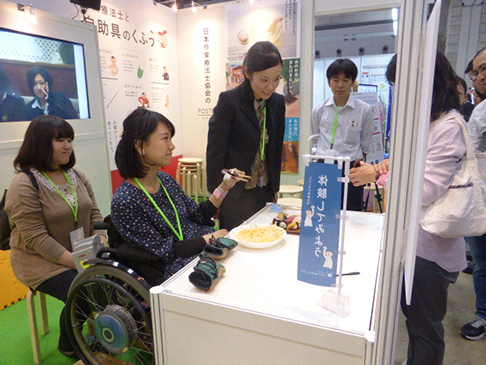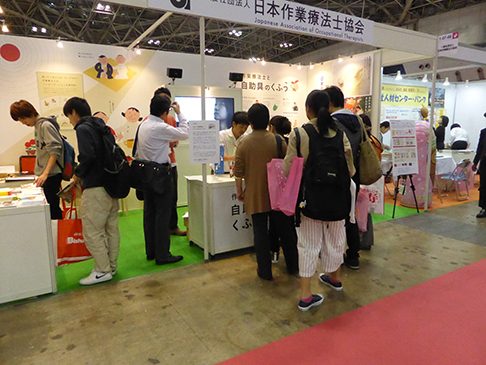 Spread the word! We now have postcards!
Postcards have been made based on the occupational therapy promotional posters that have become popular in recent years. By shrinking these posters to the size of a postcard, we hope they can be used as greeting cards for clients, seasonal cards for friends, and mass invitations to large parties or events. In this way, we hope to spread the awareness and appeal of occupational therapy and occupational therapists across Japan.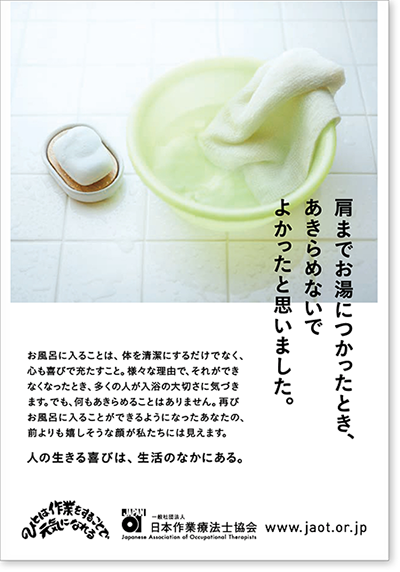 "When I soaked in hot water up to my shoulders,
I felt glad that I had not given up."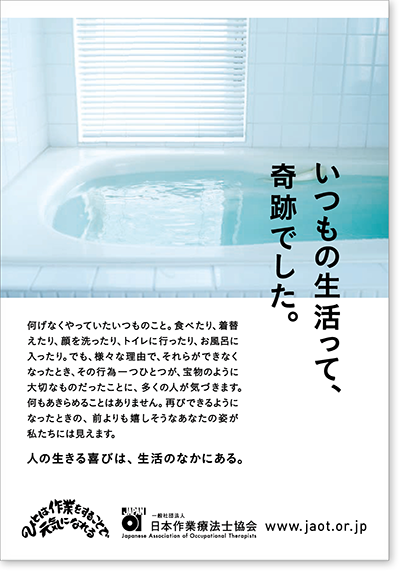 "My normal lifestyle was a miracle."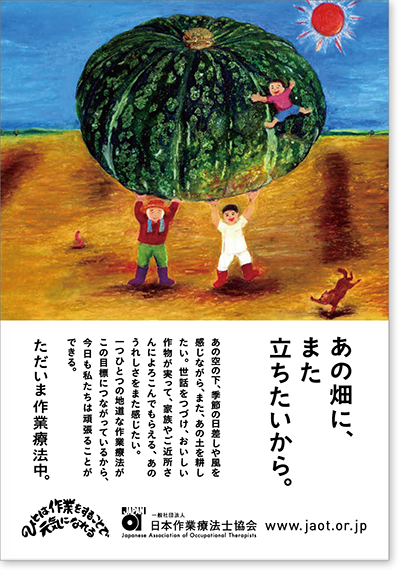 "Because I want to stand in that field again."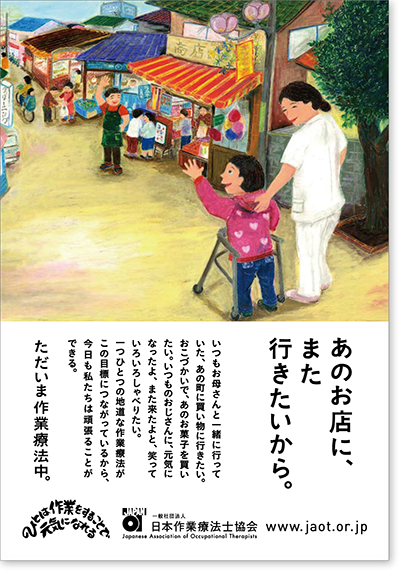 "Because I want to go to that shop again."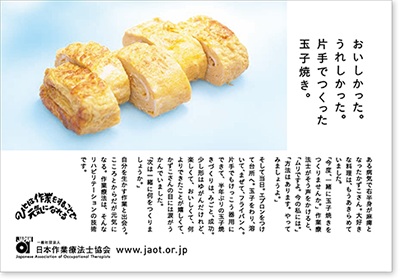 "It was delicious. I was happy.
A rolled omelet that I made with just one hand."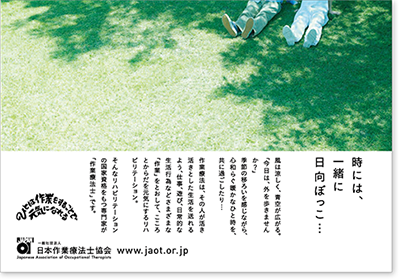 "We sometimes bask in the sun together."